Featured Vacation Rental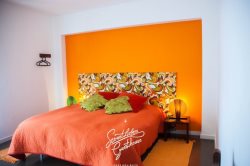 Pudim de Laranja Bedroom, Sleeps 2, Shared Bathroom, Beautiful River View
Sweet Lisbon Must
Discount Book
Don't miss the discounts and offers we have for you.


Reviews for our Guesthouse
Sweet Lisbon Must
Discount Book
Don't miss the discounts and offers we have for you.


What is Sweet Lisbon Must?
It's a book with up to €100.00 of discounts or offers for restaurants and tour companies in Lisbon, We have carefully selected our partners not only by location but primarily by quality, tradition and variety of flavours or tour programs.
The book was designed having your comfort in mind. It's organized by neighbourhoods, like a tourist guide, so you can easily find where to eat with discount. Small and light, fits in your pocket so that you can take it with you everywhere.
How it Works?
It's a voucher book and easy to use. Choose where to go, cut the voucher and give it to our partner. The offers and discounts are valid for 2 persons.
Where can I see if it's worth it?
Visit our website sweetlisbon.com, where you can find our partners and the offers we have for you.
Receive more discounts!
Since your opinion is very important to us, we offer you more real time discounts. Register your book at www.SweetLisbon.com and for each review you make, an equal or identical voucher will be sent to you by email.
Where to buy Sweet Lisbon Must?
When you make a reservation with us, you can add the book as an option. In this case the book or books will be waiting for you in the apartment or bedroom you reserved.
If you buy just the voucher book or books you can collect it at our office in Rua do Paraiso, 15, 3rd Floor, Lisbon